Nearly 8 Million Toys to Over a Million Children!
The W. Steven Martin 911 Toy Drive Blue Santa program serves Law Enforcement, Fire, Public Safety Officials, and Corrections Officers. This program is one of eight ongoing assistance en-deavors we do to support our community, city, and state. There is no sign-up for the public; our recipients are selected by Public Safety personnel based upon direct encounters where needs are discovered.
More About the Program Blue Santa Registration Form Blue Santa Officer Info View our Photo Gallery Donate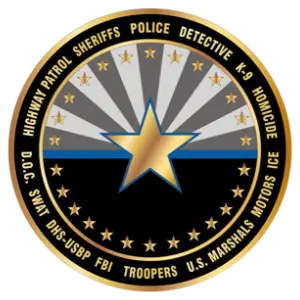 THIS 911 BLUE LINE STAR LOGO
Symbolizes the Law Enforcement family, UNITED in their efforts to PROTECT and SERVE THE PEOPLE.  We hold every officer - past, present, and future - In the highest regard and honor YOU for your service.
---
THE CENTER STAR
Represents you and every officer that has ever taken the oath to faithfully and impartially support the Constitution and enforce the laws. The STAR's BLUE outline highlights the unity of the law enforcement family.
THE BLUE LINE
Represents and recognizes your duty to safeguard and separate the public from evil-doers intent on creating chaos or committing violent acts.
THE CIRCLE OF 24 STARS
Represents the twenty-four hours a day of service and protection Law Enforcement provides.
THE SUNRAYS
Are emblematic of our nation's 13 original colonies and their fight for the freedom law-abiding citizens continue to enjoy, attributable to your protection and dedication.
THE DARKNESS BELOW THE STAR
Represents that segment of society that commits crime and violent acts, and denies others their civil rights as provided by law.
THE OUTER RING
Identifies many of the law enforcement professionals who demonstrate INTEGRITY, HONOR, AND VALOR endlessly in service to their communities.
W. Steven Martin established the 911 Toy Drive to provide support for our public safety personnel, allowing them to get toys into the hands of children and youth and help create a positive interaction that will define that child's attitude towards the officers. Our Police Santas have shared thousands of stories of success as a…
Read More