WHAT IS BLUE MONDAY?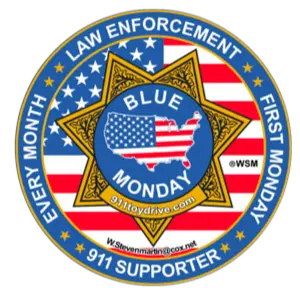 Blue Monday honors the men and women that wear badges for public safety, the officers that run toward danger and save innocent lives, sometimes sacrificing their own lives. These HEROES will sacrifice everything in the line of duty and make heroic efforts to help keep our communities safe places to live.
In recent years we have witnessed assaults on law enforcement that have made part of our country look like war zones and our citizens feel less safe.
Now is the time to show your support for those who serve by WEARING BLUE!
HOW CAN I HELP?
It is very simple:  WEAR BLUE the FIRST MONDAY of EVERY MONTH and tell people why!
When Law Enforcement Officers, friends, family, and co-workers see YOU IN BLUE, they will know you support our men and women behind the badge.
You may have noticed that not all Officers' uniforms are BLUE.  While every color of uniform is included as part of the Brotherhood of the Badge, BLUE is the unofficial color for ALL WHO SERVE in law enforcement.
Show these heroes and the world that we appreciate, honor, respect, and need them to patrol and protect us every day.
Support local businesses displaying the BLUE MONDAY LOGO!
If you're interested in using our official registered BLUE MONDAY logo, name, or items, contact [email protected].